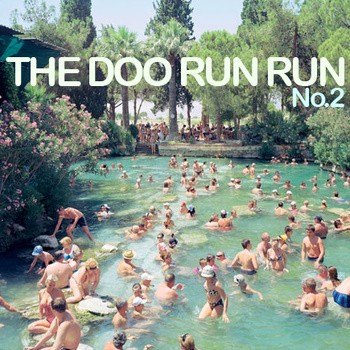 07 Aug

SMK#004 – Doo Run Run – No. 2

SMK#004 – Doo Run Run – No. 2

Gloopy off-kilter love songs are the name of the game with Mr Roy Santiago. Yes we have nice melody lines but we have syphilis in the eye, drug taking relatives, lesbians and a lot of bitter-sweet reflections. Always willing to throw his undoubted potential for creating a perfect pop song off a cliff, Roy Santiago creates the ultimate in Dutch loser music with this release. These tracks are redolent of over-pumping your bike tyres at a garage, or getting a shit kroket from the Febo-wannabe shop in some godforsaken seaside resort in Zeeland whilst seething at the spray-bronzed types as they glide off to the beach to practise healthy and inane pursuits in the name of any commercial radio station you care to mention.

The ideal soundtrack to a beach hut full of malcontents, Santiago throws a healthy dollop of melancholy into his stew. The raw edges come from some of GBV's quieter moments; (looks like the fly got smashed in Wassenaar, eh Roy?) and Black Francis too. Or imagine if Dennis Wilson gave it all up and started tulip farming in Vogelsang. Better, imagine if jazzy lounge music was banned in all the seaside beach huts on the Dutch coast and replaced with this kind of existential wailing: there'd be an exodus not seen since the days of Pharaoh.

We can but hope.